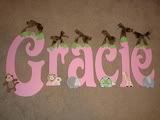 Gracie's Journey
This is the story of little Gracie's incredible journey. It was an honor to meet Holly and be able to follow the Cook's story. They are truly incredible people.
---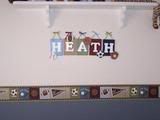 Customer Blog (with Nicole's Names Review!)
"Life After Baby" is one of my customer's blogs and she kindly wrote me an awesome review, check it out! Her stories of "Operation Binky Freedom" are great!
---
Nicole's Names featured on Style Cafe Moms Blog (July 17, 2009)
---
Nicole's Names on TV (Sunday April 6, 2008)
I was Featured Good Day Sacramento's Home Made Sundays. Please click on the below link and search for "Nicole Carr" if you would like to view
---

Unique Baby Shower Gifts
Looking for those perfect, unique baby shower gifts? You know, the ones that will keep your friends asking, "Where did you find Those?!" Are you also in charge of Planning a Baby Shower? Well, you've found the right place.
---

Nichole Young Photography
A Wonderful photographer in the Sacramento (Elk Grove) area!
---

Hipee Baby
The arrival of a new baby is a wonderful time to celebrate. But, finding the prefect baby gift can sometimes be difficult, especially when it's for a veteran Mom. Hipee Baby offers just that! Not only are their diaper cakes pretty but they're practical. Made of 66 quality disposable diapers and elegantly decorated they will become the center piece of any baby shower, and the best part is Mom can actually use it when the time comes!
---
Wee Piggies & Precious Printz
There is nothing more priceless than to hold your baby's tiny hands and feet in the palm of your hand. At Precious Printz, we know that they grow up too fast and we designed some unique ways to create memories that will last a life time. Who says that "you can't hold on to them forever"? Try and see what everyone else is saying about that! You will wish you had found out about us the first day you held your precious baby in your arms.
---
WahmServices.com
We have put together a series of support service to assist you in getting your online business up and running! We have: An Auction House A Barter or buy Classified system eStores for In-Stock and regular sales A Banner Exchange A Site promotion rotational system Please take the time to check out what we have to offer to you.
---
WahmHits.com
WahmHits.com is a simple and free way to help advertise WAHM related products and services. Each time you open your browser you will be directed to a different site in the rotation, All sites are screened for content prior to being added into the rotation. this reduces the chances of landing on a site that is not related to your community.
---